Composing and Revising Likely Pictures in Haphazard Sky
The process of writing and revising Likely Pictures in Haphazard Sky for orchestra has been transformative for my writing.
For a while, I've claimed that clarity is the most important aspect of my music. I want musicians to know what's going on so they can musically react and interpret their part, and I never want an audience member to feel lost or perplexed. For me, a large part of growing and improving as a composer involves learning how to more effectively communicate with both performers and listeners.
There are two sides to this. Musically, I strive to create narratives that both performers and listeners can follow. On a more practical level, I carefully edit my scores and parts so that performers and conductors know what I'm looking for. As simplistic as it seems, I've learned to notate my music so that it will sound exactly the way I want it to.
The process of writing and revising has been transformative.
The process of writing and revising Likely Pictures in Haphazard Sky for orchestra has been transformative for my writing. It's my third orchestral piece, and it's the only one I've been able to revise for subsequent performances. In its current form, the work is the product of important previous experiences and careful revisions.
I've been fortunate to attend schools that give composition students opportunities to hear orchestral works read and sometimes performed. In the summer preceding my second year at Juilliard, I began working on my second orchestral piece. I planned to apply to doctoral programs and, knowing that a reading at Juilliard would be my only chance to make a decent recording before application deadlines, I intended to compose something that could function well with very little rehearsal time. It needed to be simple and straightforward with the potential to sound polished by the end of a brief reading session.
This became Extraordinary Flora (2014). Composing a delicate, straightforward piece forced me to carefully consider how I presented and orchestrated my musical materials.  If I had composed this piece earlier, it would have felt counterintuitive, as if I was wasting the ensemble's potential. But, this experience taught me that writing for orchestra with a sense of restraint can actually be more effective. Carefully controlling the energy of a massive ensemble allowed me to harness and focus it for moments that really mattered.
I began thinking about my next orchestral piece, Likely Pictures in Haphazard Sky (2016), early in the summer before my second year at the Yale School of Music. In a continuation of what I had discovered while writing Extraordinary Flora, I wanted to create delicate, chamber-like moments that would contrast with expansive, more "orchestral" sounds.
The opening texture of Likely Pictures was my first significant idea; before anything else, I knew how I wanted the beginning to sound. I imagined a dry, sparse introduction with solo pizzicato notes sounding from within the strings section. Then, I wanted a slow, simple melody (unison piano and vibraphone) to soar over the pointillistic activity. A low, indistinct rumbling noise (tremolo basses, very low piano, and rolled bass drum) would slowly emerge.
And then I had to figure out the rest of the piece. This is how I usually begin writing: I compose the opening, and then pause to consider what happens next. On a large sheet of paper, I create a timeline and draw out the trajectory of the piece, determining proportions and how important moments will occur. I continue to refer back to these initial, basic sketches, often changing my mind and adjusting my plan.
During the first phase of composing, I always write by hand, usually at a piano. I improvise and sing and play until I find what I'm looking for. I compose with paper and pencil until it feels counterproductive to do so—that is, when it becomes apparent that I'm notating, not composing. I then begin organizing my materials into notation software. For me, notation software allows for greater flexibility as I alter and rework. And, I like the idea that the final barline is always there, waiting for me to meet it at the end of the piece.
I think it's important to experience the passage of time like an audience member might.
At a certain point, playback becomes valuable, and I know many composers who would disagree with me on this. But, I think it's important to experience the passage of time like an audience member might. Playing through the music at the piano, or singing, or conducting, or just closing my eyes and imagining—these exercises force me to actively participate in the music, and this participation drastically alters my sense of time.
When school started in the fall of 2016, I had notated a nearly complete draft of Likely Pictures in Haphazard Sky. I brought what I had to my teacher, Christopher Theofanidis. In initial drafts, the piece was very episodic, and Chris advised me cover these seams and create smooth, elegant transitions between sections. This transformed the work's continuity and overall cohesion.
We reworked individual sections as well. For example, I had initially imagined the solo pizzicato gestures of the opening section as coming from players within the section. Chris convinced me that the drama of seeing the individual players was important, especially as these subtle sounds recede. At a certain point, an audience member can't quite hear the pizzicato notes, but he or she can see them. Visual cues can smooth over transitions, too.
Two months after the piece's premiere with the Yale Philharmonia, I found out that I had been chosen to participate in the American Composers Orchestra's Underwood New Music Readings. I took this opportunity to make some revisions, as I realized that my notation wasn't always as clear as it could be.
The most significant and time-consuming change I made was to tie over sustained notes so that the pitch stops on a sixteenth note. Throughout the first section of Likely Pictures in Haphazard Sky, I ask the first violins to crescendo through sustained tones. I noticed that many of the players seemed to back away before the completion of the note value, causing a sudden decrease of energy. Tying these notes over to sixteenth notes conveyed that I wanted the sound to persist and grow for the duration of the pitch. It's not the most visually elegant notation, but I think it better conveyed my point, and I was happier with the ACO's treatment of this gesture.
I made other, far smaller adjustments. Yale's music library had returned my parts, so I was able to consider the performers' notes. Aside from small notational changes, deciding exactly what to revise was tricky. The Yale Philharmonia usually performs in Woolsey Hall, Yale's largest performance venue. Visually, the hall is an ornate, dramatic space; acoustically, however, it's not unlike an empty water tower. Although I was happy with the performance and the recording, the muddiness and other acoustic peculiarities made it difficult for me to decide what actually needed to change.
The Underwood New Music Readings took place in the DiMenna Center. Aside from clarifying some notation, I wanted to leave many elements of the piece untouched because I was curious as to how Likely Pictures would sound in a drier venue. The change in acoustics made an incredible difference; – staccato notes were actually staccato, for example. Each performance had its strengths, and I don't think I could say that I substantially prefer one recording over the other.
One of the most valuable experiences was receiving direct feedback from the musicians.
One of the most valuable experiences of the Underwood New Music Readings was the opportunity to receive direct feedback from the musicians. As regular performers with the American Composers Orchestra, these musicians have seen and played an unbelievable variety of new works, and they are quick to catch on and understand a composer's intentions. The instrumentalists gave the same advice to all the participating composers: Make an individual musician's purpose clear. And, beyond this: Make it clear that the musician's role is necessary and valuable. If a passage is particularly tricky, at least make it gratifying for the player.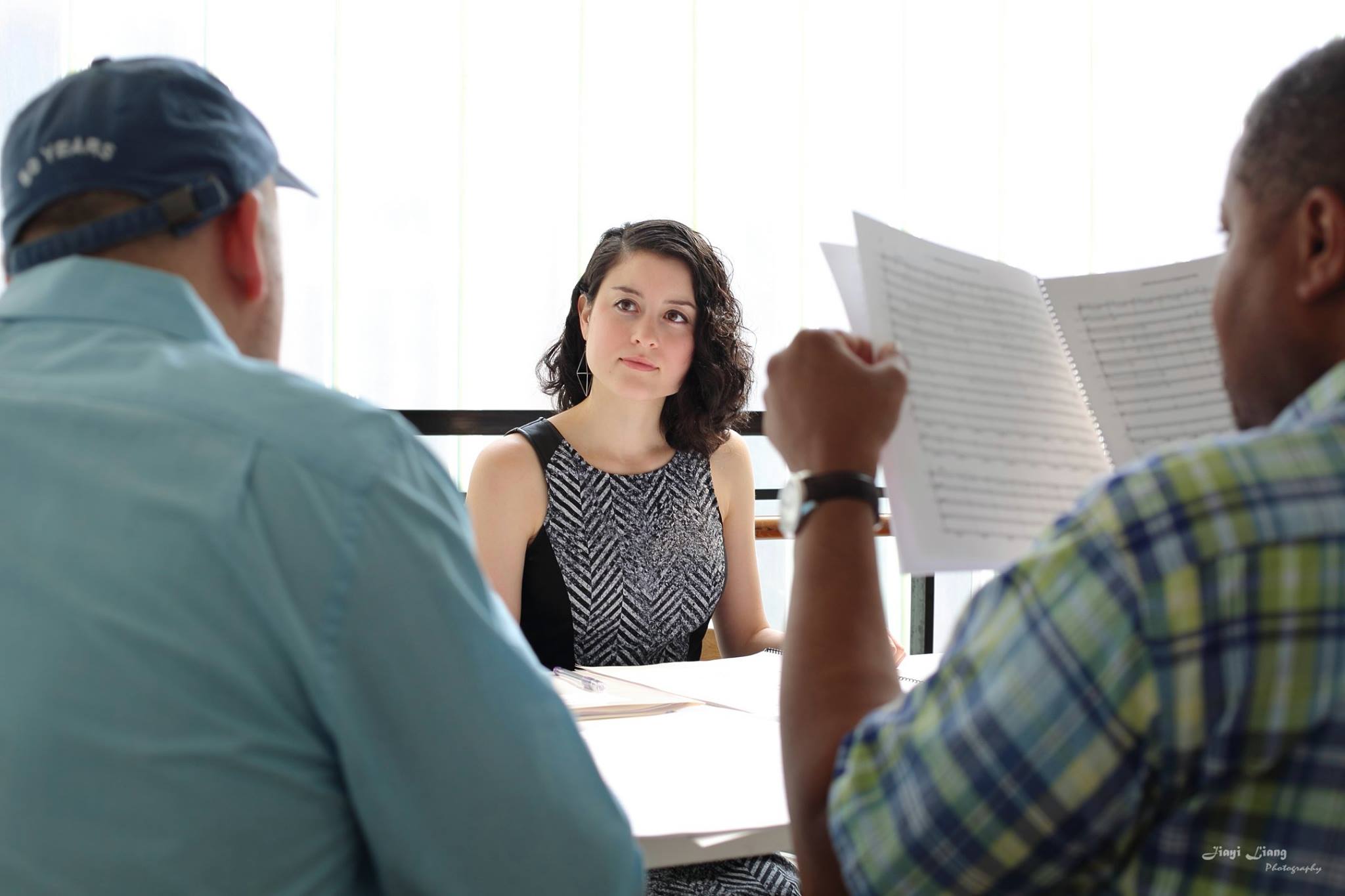 Hilary Purrington receives feedback from Underwood mentor composers Derek Bermel and Trevor Weston (Photo by Jiayi Photography, courtesy American Composers Orchestra)./caption]
For me, generating material is the most straightforward part of composing. Using Western notation and occasional words to describe an abstract idea and a musician's role within that is often a complex task. In November, I have the opportunity to workshop Likely Pictures in Haphazard Sky yet again, this time with the Minnesota Orchestra as part of the Minnesota Orchestra's Composer Institute. The skill of effective and efficient communication can only be sharpened by experience, and I'm very grateful for another opportunity to continue learning and improving my craft.
Looking for more content like this?
Subscribe