[Ed. Note: Later this week (October 14-15, 2017), Sirius Quartet will present their second annual Progressive Chamber Music Festival for two nights at the Greenwich House Music School in New York City. We asked the quartet's four members to tell the story of the evolution of the group into a post-genre ensemble and why they decided to create their own music festival. Founding violist Ron Lawrence describes how the quartet came into being and the underlying aesthetics that inform what/how the group plays as well as the music festival they curate. Second violinist Gregor Huebner explains how the quartet evolved into a group of composer-performers. Cellist Jeremy Harman, the quartet's most recent addition, describes why he joined the group seven years ago. And first violinist Fung Chern Hwei explains how the idea for a festival emerged over a conversation between the four of them while they were on tour in Kuala Lumpur, Malaysia. Along the way, each describes their own personal musical journeys and the directions those journeys have taken as a result of playing music with each other. As with the four separate parts that seamlessly weave together in a string quartet performance, whether it's pre-composed or improvised, their four independent narratives inform and enhance each other.-FJO.]
---
Ron Lawrence
The conflict/merging of the sacred and the profane has been a major theme in western culture since the rise of Christianity.  In the modern world, one expression of this conversation has been the gradual breakdown of the barriers between contemporary academic music and popular and folk music traditions.  The aesthetic of the Sirius Quartet and our Progressive Chamber Music Festival is an expression of this ongoing blending.  We created the festival to be an annual opportunity to showcase the diversity and depth of the community of like-minded composer/performers.  On a more prosaic level it is an attempt to create a new "bin in the record store" for this mulatto style (perhaps labeled "omnivores' delight").
The Sirius Quartet revels in the musical smorgasbord that the digital tidal wave has brought to the internet.
The Sirius Quartet revels in the musical smorgasbord that the digital tidal wave has brought to the internet.  With a few taps on a keyboard, anyone can access the entire canon of humanity's musical experience.  The opportunities for cross-fertilization of musical styles, performance techniques, and creating new social contexts for musical performance are abundant.  The Sirius Quartet has been dedicated to exploring this new world, and the artists we've presented during the Progressive Chamber Music Festival for the past two years all embrace and explore these possibilities.
However, there are dangers in the digital tidal wave that has washed over the new millennium.  Beyond the obvious steering of a complacent audience into the "if you like that, you'll love this" cul-de-sac, the configuration of the software programs and their default settings creates a huge temptation to allow the machines and plug-ins to make crucial aesthetic decisions.
Without making a conscious decision, the medium can become the message.  For example, the editing process can dictate what should be musical/emotional decisions.  The click map is a wonderful tool when writing music to picture, but expressing rubato is time consuming.  It's easier to just loop some cool beats and lay it on the click map.  The technology has dictated the musical style. Plug-in technology is also insidious.  Rather than make a conscious decision about the color palette, the composer/producer will just plug in the funky '70s Fender Twin bass sound from his or her library.  It would take hours of painstaking listening to get under the hood and tweak the software to find an original sound. Once again the technology has preemptively dictated choices, homogenizing the style. The composers/performers of Sirius and our colleagues use improvisation and the spontaneity of extended techniques to combat this homogenization.  We want our music feel homemade and give the audience the sensation of "fresh from the pot."
I think my personal journey to becoming a creative musician began while driving around Michigan as a teenager with my car radio blaring rock and roll. I reveled in the breathtaking tonal and emotional palette of the electric guitar. When I arrived in New York in the early 1980s, the classical conservatory training of instrumentalists was increasingly specialized and recording techniques were creating a style and sound that worshiped velocity and close-miked sizzle over warmth and soulfulness.  There was a "correct violin sound" and one's education and technical training focused exclusively on producing that timbre and emotional quality.  I yearned for that wider palette of the electric guitar. As a listener, I was as drawn to Sonny Boy Williamson or Bata drumming as I was to Babbitt or Boulez.  New York, always a nexus for the melting pot of cultures, gave me the opportunity for an almost anthropological exploration of the roots of popular and folk music styles.
Playing with a few charanga and tango bands taught me that each particular style has its own unique technical challenges distinct from the classical tradition.  Not only does each folkloric tradition have a unique rhythmic feel, but one's physical approach to the instrument must be flexible enough to step outside of the classical concept of "good violin" playing.  As a performer and composer, choices of bow distribution, quality of attack and decay, and tonal variety inform the rhythmic feel and emotional content of any style.
Eventually, I was asked to join the Dave Soldier Electric String Quartet.  As a mainstay of the downtown, Knitting Factory music scene, Dave introduced me to that diverse, eclectic collection of urban, postmodern creative "folk" musicians.  Here was my wider palette.  When the Soldier Quartet disbanded, I founded the Sirius Quartet as a vehicle to continue these explorations for composers/performers.
---
Gregor Huebner 
I joined the Sirius Quartet around 2004, shortly after I started working with jazz pianist Richie Beirach.  Richie and I recorded the albums Round about Bartók and Round about Federico Mompou, which were very much about exploring the intersection of composition and improvisation in more of a jazz context.  At the time, Sirius Quartet was really focused on contemporary classical and avant-garde jazz composers.  As a player and a composer, this was a perfect group for me to explore my own musical identity and ideas.  I started composing pieces for Sirius which included both the extended techniques of the contemporary classical "language" as well as the spirit of improvisation from my jazz experiences with Beirach, Randy Brecker, Billy Hart, and George Mraz, with whom I play in a quintet.
These days we are a string quartet which writes its own music and incorporates improvisation in many different forms.
When Jeremy and Chern Hwei—two fantastic composers and improvisers—joined the quartet, it felt like focusing on our own music was the way forward. So these days we are a string quartet which writes its own music and incorporates improvisation in many different forms.  That is my own personal definition of what we are calling "progressive chamber music" as it applies to Sirius and we can stretch that term very broadly to include all kinds of creative small ensemble music, which is the focus of our annual festival.
---
Jeremy Harman
I grew up spending equal amounts of time immersed in classical music via cello lessons, playing in my school orchestras, and playing in a quartet with high school friends, as well as the rock/metal world, which was a very different circle of people, most of whom were self-taught and were more focused on writing original music.  I always felt equally at home in both worlds, and at the same time, maybe like in each world that I wasn't able to fully be myself as a musician due to both collective and personal misperceptions that these two were incompatible.  Throughout my life, I've sought to bridge this gap on a personal level, and when I auditioned for Sirius Quartet in 2010, I found some like-minded string players who each came from a pretty unique background of musical influences, but who shared my desire to build bridges between genres, and more specifically to blur the lines between supposed high-brow and low-brow art and music.  We all have a classical background, but each of us have spent our lives reaching beyond that in our own ways, which have included exploring various types of improvisation, from soloing over chord changes to playing completely free with no premeditated musical goals or expectations, exploring alternative and extended techniques of playing to widen our sonic palette, and composing our own music which we hope reflects our unique identities as both individuals and as a quartet.
Each of us have spent our lives reaching beyond our classical backgrounds.
With seven years in the group, I am still the newest member of the Sirius Quartet, and most of its history predates me.  Initially the quartet came out of the Soldier String Quartet run by violinist Dave Soldier in the late '80s as Ron has already mentioned, but as the resident "rookie" here, I think they did some very interesting work as part of the early Knitting Factory/"downtown" scene, working with artists such as Elliott Sharp and Nick Didkovsky and playing a lot of music that was more on the experimental side.
As has been said, in recent years, the quartet has focused more on original works by members of the quartet itself and has leaned more toward the jazz side of things, collaborating with a lot of phenomenal musicians including Linda Oh, Steve Wilson, Richard Sussman and Rufus Reid who all have written really incredible music incorporating the string quartet into more traditional jazz ensembles and instrumentations.
As a quartet, I think we occupy a somewhat unique position in the New York City music scene. So we wanted to put together a festival that brings together musicians from the various corners of the musical worlds we occupy.  There are already some fantastic music festivals in the city, but we thought there was plenty of room for another one.  If there were a Venn diagram that existed and each of these festivals occupied their own circle, I think that the circle that the Progressive Chamber Music Festival would occupy would have significant overlap with all of them.
---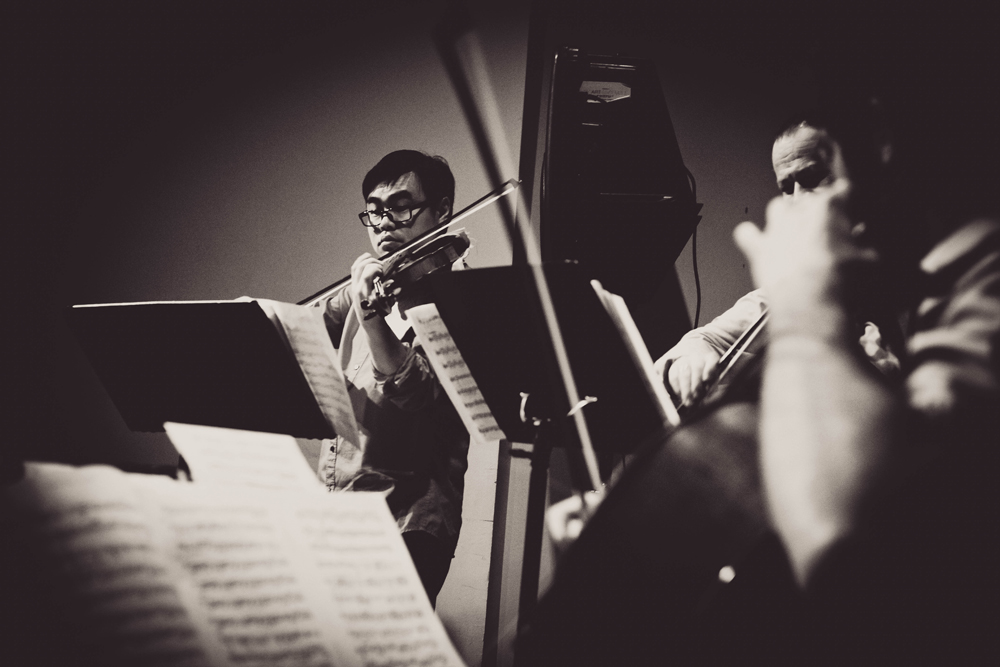 Fung Chern Hwei
The genesis of the Progressive Chamber Music Festival happened one fine October morning in 2015.  The place was Kuala Lumpur, Malaysia, where we were on tour and had a day off.  Before the sun displayed its full equatorial glory, we were enjoying breakfast at a South Indian-Malaysian roadside food stall—more commonly known as a "mamak" stall.  Words were exchanged over a topic as old as the quartet's two-decade long career: How does one define the musical direction the quartet is taking? How does that fit into the current musical landscape of the music scene in New York and elsewhere?  Many of our fans and listeners would agree, it can be difficult to place the group in a certain category.  Sirius has a fascinating lineage of former members who have developed their own projects writing and/or performing contemporary classical music and/or various non-traditional genres—Todd Reynolds, Meg Okura, Jennifer Choi, Dave Eggar, just to name a few.
The current incarnation of the quartet is primarily focused on music that is internally written, as three of the four of us are composers.  We all compose in different styles and methods, since each of us came from a slightly different musical background.  The end result is, I think, an eclectic body of music that pulls listeners in many directions and hopefully both challenges and intrigues them.
We don't rule anything out.
We don't rule anything out in the music we write: tonality, atonality, groove, form, etc., and we like to incorporate improvisation in various ways to achieve various goals in our music.  This could range from creating vamps in the midst of otherwise through-composed music (to bring about a change of pace or vibe) to finding ways of embellishing or improvising on a previously written part in one of our pieces, to linking various movements and/or pieces together with free improvisation, which we've found can create a nice heightened sense of focus in the audience since what is composed and what is improvised becomes less and less distinct.
We have had the absolute pleasure to work with accomplished creative jazz musicians like Uri Caine and John Escreet, both of whom in their own way share our affinity for line-blurring. They have each written some amazing music that we have performed together over the years which consists of very interesting mixtures of composed and improvised material.  I certainly don't think this is unique to our quartet; I think there is a growing movement of creative musicians of all stripes blending these elements in a myriad of really interesting ways.
Getting back to our breakfast in Kuala Lumpur, we didn't necessarily come to any explicit conclusions when talking about our place in the larger world of creative music, but we found the discussion to be really enjoyable and it gave us a chance to reflect upon and really appreciate the musical community that we are a part of.  New York City has long been an incubator for cross-genre pollination and experimentation in all corners of the music community. It is not difficult to find artists and groups, many of them personal friends of ours, who fall outside of the mainstream categories of "concert" or "art" music.  So someone probably half-jokingly mentioned putting together a festival with a bunch of friends and colleagues whose music resonates with us and who we respect very much as artists, and we thought it actually sounded like a good idea!
Currently the festival is a total DIY operation, but the goal is basically to give each artist the chance to do solely what best represents them and their creative identity without having to compromise anything.  The name "Progressive Chamber Music Festival" retains the ambiguity of the types of music presented, therefore giving musicians absolute freedom of expression, while at the same time it clearly defines the philosophy that I think we and our musical comrades stand for—progressiveness within but also regardless of convention.  We hope to challenge the common notion of what chamber music should be, while inviting old and new voices to partake.