Having grown up in a house full of composers, I hit my college years with a heavy dose of curiosity about what else lay out there besides new music. At Yale, I was not required to declare a major right away, and I took many courses in music while also falling slowly and deeply in love with the literature major. It was 1986, the heyday of American poststructuralism, and – unlike the composition faculty – the department's pantheon of literary theory superstars was strikingly diverse: Harold Bloom (father of the Theory of Originality), Shoshana Felman (French-Israeli feminist deconstructionist), bell hooks a.k.a. Gloria Watkins (proto-postcolonial poet and theorist), and pioneer queer theorist (and nascent opera librettist) Wayne Koestenbaum. It was rigorous and nerdy and glamorous all at once. I was hooked.
Eventually, much to the chagrin of my music professors and some of my family members, I left the music major behind, thinking perhaps that I was turning my back on the "family business." I embarked on a massive senior thesis in the literature major, with Wayne Koestenbaum as my advisor, entitled "Signed, Sealed and Delivered: Originality, closure and reproduction in the collaborative discourses of psychoanalytic hysteria and Surrealism." Here is a bit of nostalgia: a paragraph from my dot-matrix prospectus in 1990 that articulates, for the first time, a phenomenon in Western cultural history that ended up haunting me for the next 27 years: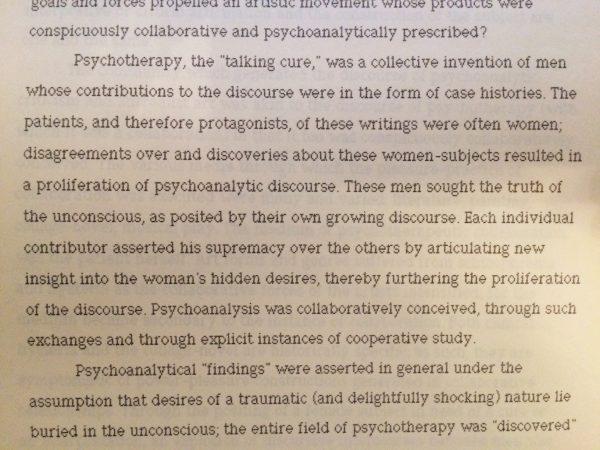 Here are some images used in my essay and in the research for Vireo:
Little did I know that this discovery was the seed of what would later become my most ambitious compositional endeavor: Vireo: The Spiritual Biography of a Witch's Accuser.
Stream
Vireo: The Spiritual Biography of a Witch's Accuser
on-demand at
KCET.org
.
I got an A on the essay, I graduated, and I disappointed my literature professors (there is a pattern here perhaps) by not going on to graduate work in comp lit but moving to New York City to couch surf, audition for singing work, and write music. I became the vocalist in the Philip Glass Ensemble and went on the 1992 world tour of Einstein on the Beach. But all the while I also kept reading and reading, about these girls whose fits and starts were the subject of assiduous study by groups of ministers and magistrates in Colonial America, priests in 15th-century Italy, neurologists during the Great War. My essay had focused primarily on psychoanalysis and surrealism, but my fascination with these visionary women continued and the scope of my research expanded. My library grew. Today my bookcase dedicated to this area of inquiry is bursting with wide-ranging works from multiple disciplines and centuries: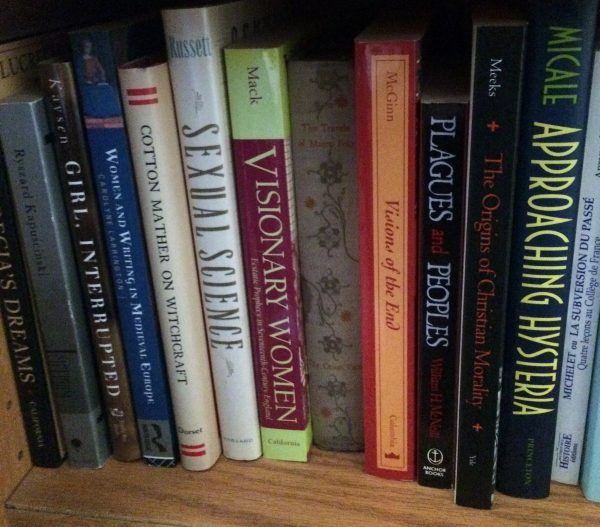 In 1993 I was accepted into a two-week program at New Dramatists in NYC called the Composer-Librettist Studio. Four composers and four playwrights created new opera/music theater scenes in a compressed round-robin workshop environment, and brave singers sight-read these scene-lets into being. One of the playwrights was Erik Ehn, whose writing seemed to trigger something in me that made the music write itself. I was in love with his writing, and so I approached him at the end of the session and asked him, with sweaty cold palms, if he would consider working with me on something bigger. I felt like I was asking him to the prom.
We began corresponding, mostly by fax, and I started to send him hefty packages of source materials from my research into young visionary women and the male authority figures who used these girls' visions and behaviors as proof of their own various theories.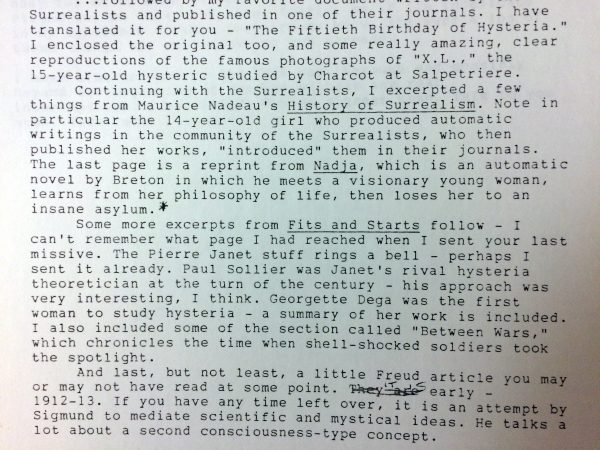 In a rush of dot-matrix pages came the first draft of a libretto for a traditional opera about a young girl named Vireo: "A fourteen year old girl genius. Lives in the 16th century, born in the 19th, does forward roll into the 20th."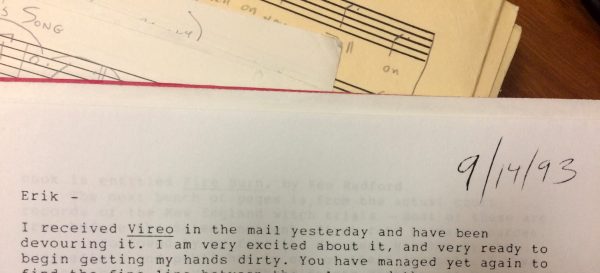 Erik had integrated and assimilated this vastness of source material and created one girl. And on page 29 of this libretto draft, she sang an aria called "The Bat" that seized me immediately:
The Bat.

(Vireo alone in a dark cell, walking circuits. At first she bumps into chair, bed, bucket… but gradually grows accustomed.)

VIREO

In the morning in my house
Before it's light
I can walk as if the light
Were shining through our
High windows

If in the dark a chair has moved
I can move around it
I know the room so well
There is no out of place

I am not out of place in a jail cell
I close my eyes and cross to make
A breakfast fire
I remember very well and
Solitary suits me
Decorative as a memory

(To the dark, speaking.)
How well do you remember? Are you going to stop?
Here is the very first sketch of music for Vireo from 1993. This eventually became the aria that opens Episode 9 – Alcatraz: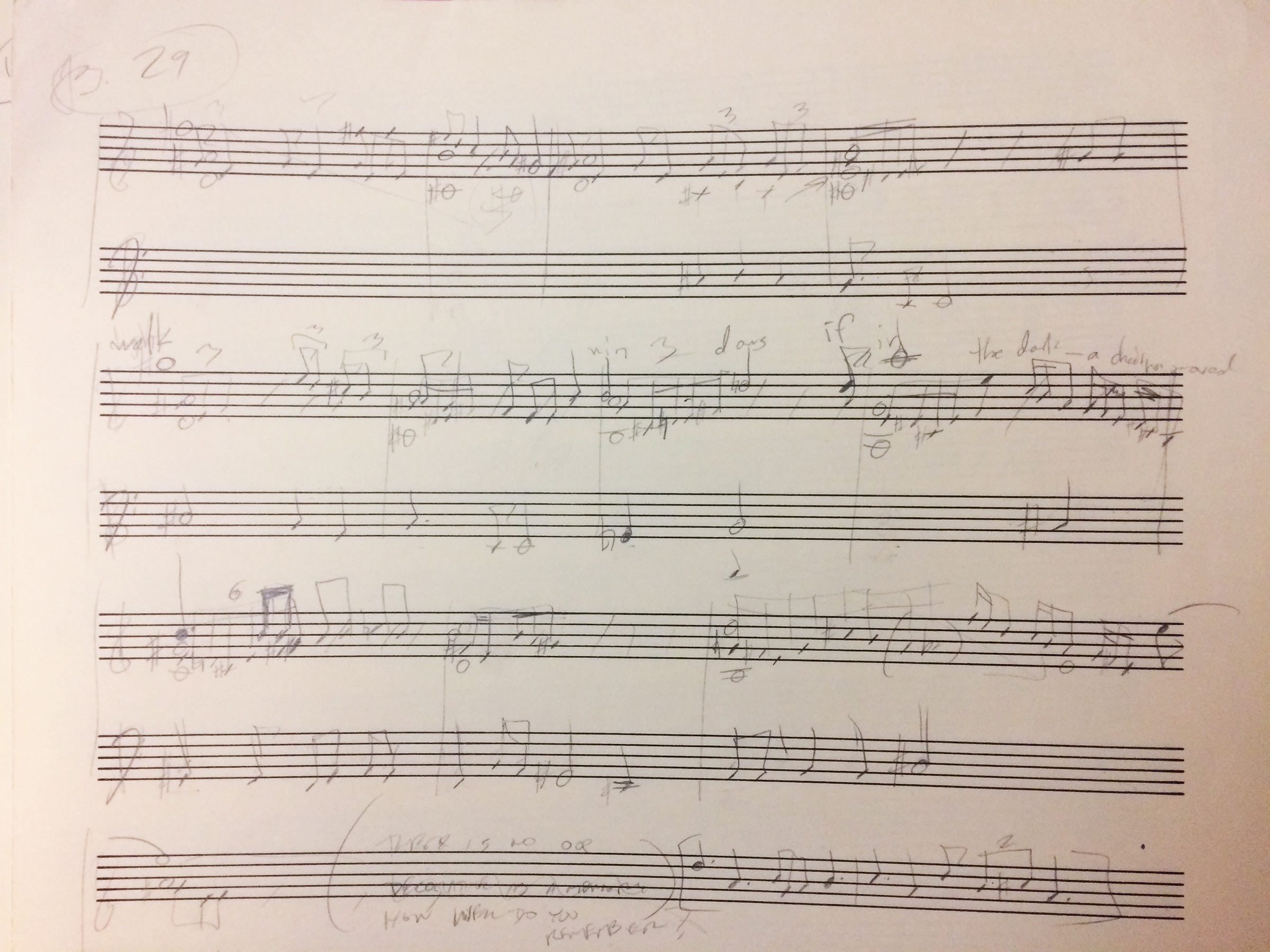 My own singing voice was still very young then, and when we went into the studio to record the few songs and arias that I created in that first year, I sang the title role myself, with a variety of archaic sampled instruments accompanying me. This was a cutting-edge MIDI demo in 1994!
The Bat 1994 Demo Recording
Erik and I revised. I kept composing. We went into the studio again. We created packets with synopsis, budgets, and cassette tape work samples (with baritone Gregory Purnhagen as The Doctor, a role he would develop further with terrifying precision 20 years later). I applied for every grant I could find. I sent packages to every opera company in the country, with a letter of support from the then-president of the board of the San Francisco Girls Chorus, of which I was an alumna. The SFGC had given me my first performances and my first two commissions, and they took special interest as I began work on this ambitious undertaking.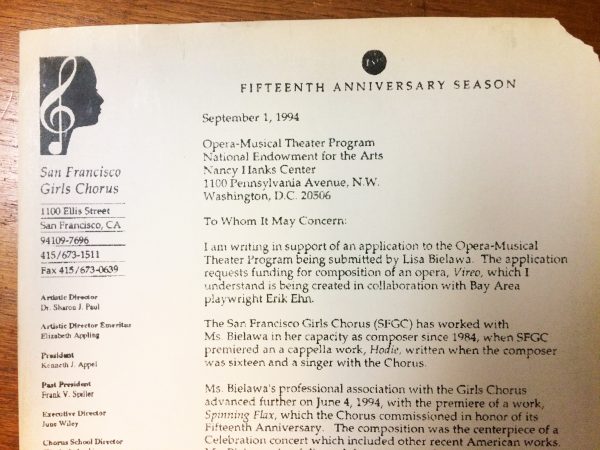 I followed up my mass-mailings with phone calls, leaving message after message. But I was just 25 years old and had almost no track record of professional performances of my music. A few kind souls offered bland encouragement; most simply ignored us. After a year and a half of dedicated partnership-seeking, it was clear that Vireo was not finding a home. It wasn't her time.
I told Erik that I couldn't foresee any project of this size happening before I built a professional life from the ground up. I felt we needed to shelve Vireo for the time being. He and I both undertook other creative endeavors, sometimes in collaboration on smaller-scale projects. Many years passed, during which time I wrote many, many hours of music – solo, chamber, orchestral, chamber opera, and music theater. Commissions and opportunities grew, and slowly the scale of my projects ramped up. I created massive public-space works for up to 800 professional, amateur, and student musicians. My community of collaborator colleagues grew and deepened: Kronos Quartet, American Contemporary Music Ensemble (ACME), Alarm Will Sound, cellist Joshua Roman, violinist Jennifer Koh – these musical friendships sparked with possibility.
In all this time, the two years of sketches I made for Vireo lay largely untouched. Correspondence, research, grant applications, and drafts were boxed up. Life took its twists and turns; the box and I moved from the Bronx to Queens, then from Queens to Manhattan. I never "mined" these musical materials for other works, but I always felt their presence at the back of my mind.
The internet came to be. Collaborations unfolded over email instead of fax. Research exploded online, rendering my weeks buried in the Beinecke Rare Book Library at Yale a kind of nostalgic curiosity. In 2009 I made a simple setting of "The Bat" aria for solo English horn, for a series of 15 short works I wrote, each bearing a six-word title. I titled it "I Know This Room So Well." Vireo was coming back into my consciousness. The remounting of Einstein on the Beach found director Charles Otte, who had been Robert Wilson's assistant director in 1992, and me back on the road together again, talking about new opera, film, and new media on the bus. In 2013 I became the artistic director of the San Francisco Girls Chorus, bringing my artistic focus back to the voices of exceptional young women.
Meanwhile, I had started exploring new project ideas as artist-in-residence with the Grand Central Art Center in Santa Ana. GCAC's Chief Curator and ED John Spiak introduced me to a wide range of potential partners to help generate ideas for how I might make work that could catalyze new relationships in Southern California. He introduced me to Juan Devis, chief creative officer of KCET in LA, and Maria Lazarova, then director of the Classical Voice Conservatory of the Orange County School of the Arts, one of the premier public charter arts schools in the nation. A coin dropped in my mind – here was a school full of young women with superb classical voice training. Maybe Vireo was here! And KCET was at the forefront of arts streaming programming. What if we made a TV/internet series that was an opera? What if that opera was Vireo?!
Things moved forward very fast then. Kronos wanted the pilot. KCET signed on as a partner. Charlie Otte brought a visionary concept and design. The box came down from off of my top shelf, and I excavated.
It was like seeing the work of a student – a student full of promise but also in way over her head – and yet this student was a younger me. All of the musical ideas felt familiar yet strangely distant. Major structural reworking of the libretto ensued, to embrace the new episodic format. I sifted through the original musical sketches and discovered that I had taken at least a cursory stab at melodic or harmonic material for slightly less than half of the opera. Sometimes I just kept the essence – a harmonic color, a certain phrase, a rhythmic figuration – and other times I started over.
In a few cases, like "The Bat," I revised only lightly and honored the original. I let the obsessive energy of my earlier self inhabit me, and I felt the power of 20+ years of experience serving to bring the piece to its deserved epic scale. And I let the prodigious gifts of young Rowen Sabala, just 16 years old and a junior at OCSA, breathe new life and inspiration into the role of Vireo.
I would never have dreamed, back in 1990 as a literature major at Yale, or in 1993 when I spent so many months back and forth between the fax machine and the piano, that Vireo would eventually find such complete fulfillment. Now, 350 cast members and musicians, 400+ participants including designers and crew, 12 episodes and over 250,000 viewers later, I feel a certain wonder at the delicate thread that kept the project alive in the back of my mind, in a box at the back of my closet, for so many years. Its protracted latency period gave Vireo the opportunity to feed off of many life lessons, relationships and maturations. Her metamorphosis is complete.